Obituary for Italy Cokley
Bishop Italy Cokley

Life Reflections


For I am now ready to be offered, and thetime of my departure is at hand.
I havefought a good fight, I have finished my course, I have kept the faith:
Henceforththere is laid up for me a crown of righteousness, which the Lord, the righteousjudge, shall give me at that day: and not to me only, but unto all them alsothat love his appearing.
2 Timothy 4:6-8 King James Version(KJV)


A beautiful person to know and love, Bishop Italy Cokley,AKA "Lee Cokley", age 97 of Brooklyn, NY (formerly of Kingstree, SC), departedthis earthy life on January 7, 2020 at Methodist Hospital in Brooklyn, NY.

He was the third of twelve children born to sharecropperparents, the late Edward Cokley and Minnie Barr Cokley in Kingstree, SC onMarch 22, 1922.

He joined Hickory Hill Baptist Church under theleadership of Rev. Samson and was baptized in Black River in Kingstree, SC. Hewas always a biblical person during his youth, and it has been said that hewould carry his Bible wherever he went.

He was educated in the Williamsburg County School system.

Italy was determined that farming was not for him, so heventured to Gainesville, Florida, at a very young age in the 1930's, to livewith his aunt and uncle. From there hemade his way to Newark, NJ and then to Bronx, NY before settling in Brooklyn,NY, where he remained until his passing. In his later years, he had a yearning to return to his native home ofKingstree, SC.

While in Brooklyn, NY he started his own businesses –Cokley Moving Company and Cokley's Used Furniture Store.

In 1966 he met and married Alberta Williams who precededhim in death. Together they fostered andmentored many children. After the death of Alberta, he was reacquainted with,and married Dorothy Gregory who also preceded him in death. After her passing, he lived alone until hishospitalization. He was a loving anddevoted husband, foster father, stepfather and grandfather.

Although Bishop Cokley was declared legally blind, he didnot let it sideline him. He traveledwherever he wanted to go, by ground and sometimes air. He owned stock in Amtrak and was always usingAmtrak to return to his native home of Kingstree which he loved so much.

Italy became a member of New Canaan Baptist Church inBrooklyn under the leader Rev. Charles E. Lewis. He would later join Lighthouse Temple underthe leadership of Rev. Charles Stevenson. Before accepting his call to the ministry, Italy served as an usher,choir member, elder and deacon. On July31, 1966, Elder Italy Cokley founded All People's Church, Inc. with his latewife, Alberta Cokley. In September 1970,Elder Cokley was ordained to Bishop Italy Cokley. During his tenure as Bishop, he presided over6 churches: All People's Church 422 Gates Avenue, All People's Church 182Thompkins Avenue, All People's Church 83 Rockaway Avenue, In the name of JesusChurch, Faithway Holiness Church and Shiloh Temple. God filled with the holy spirit. Bishop was a true man of God filled with the holyspirit. God used him in a mighty way. Under his teaching many were saved, healed,delivered and ordained. Bishop ranrevivals and preached Monday through Friday. Bishop lived his life by example and taught "Holiness is right". Bishop Cokley had a heart of gold. He wasknown as a gentle giant.

He opened food pantries, free lunch and soup kitchens. For Thanksgiving, he was sure to feed thehomeless. Bishop owned numerous buses,two restaurants, and a green thumb garden. He loved to eat, if the food wasn't dry. Bishop loved old time gospel music. He loved music so much, he bought himself a guitar and learned to playat his own tune. He was also the tenorfor a local gospel group.

Bishop loved his family and church family, the All PeopleChurch of Apostolic Faith in Brooklyn, NY where he was the Founder, Establisherand Pastor. Most of all he loved theLord more. Bishop Cokley was a deaconfor several years. He was called tocarry the Good News. He celebrated his 53 years of Pastoral ship on November21, 2019.

He was a giver. Hewould give until it hurts. He did not have to know you. If he thought someone needed assistance, hewould not hesitate to assist them without them asking for his help. Because of his generosity and his medicalcondition, many times he was taken advantage of and sometimes by those he lovedand trusted.

In addition to his wives, Alberta and Dorothy, and hisparents, he was preceded in death by his siblings; James Cokley, Sallie Cheeks,Virlie L. Cokley, Ellen Cokley, John B. Cokley, Louris Edward Cokley andGeorgianna Cokley; stepdaughter, Helen Collins; several step grandchildren;several nieces and nephews, four of whom he eulogized.

He leaves to cherish his loving memories, mourn hisearthly departure and rejoice in the Lord for blessing him with 97 years plusweeks and days here on earth; three loving brothers, Deacon Theodore (Helen)Cokley of Baltimore, Maryland, Henry Cokley of New Jersey and Bobby Gamble ofStroudsburg, Pennsylvania; two loving sisters, Annie M. Cokley of Nesmith, SCand Katie Taylor of Newark, NJ; a special and devoted niece, Sindier Smith,along with her supported husband Craig of Plainfield, NJ. She went far and beyond and thought nothingof driving from New Jersey to Baltimore, MD to pick up her dad, TheodoreCokley, then drove back to New Jersey to gather up her aunt, uncle and cousinsto drive them to Brooklyn to visit and spend quality time with their brotherand uncle; a loving cousin, Ida Lasley and her godson, Mynk Hannays both ofBrooklyn, NY; two that were like sons, Joe Lee Barr and Elder Benedict Burroughs,both of Kingstree, SC; his pastor, Creola Smith and the All Peoples Church ofApostolic Faith family in Brooklyn, NY; a caring and devoted god daughter,Kerina Lewis; Elder James Mazyck; additional sister-in-law, Gracie Williams ofMaryland; five step grandchildren; ahost of nieces, nephews, grand nieces and nephews. "RAVEN! Where is Raven? Sir.Come here girl and sit on my knees."; great great grand nieces and nephews.other family members and loving friends; his driver, Deacon Arthur; two devotedand caring caregivers until the very end, Mary Cerimeus and Louisa Bierre-Paulboth of Brooklyn, NY.

Special thanksto Rev. Robert Burgess and the Hickory Hill Baptist Church family; Also, ElderJames Mazyck who When he received, the call that Bishop was hospitalized, hisresponse was "what hospital is he in? I need to get a flight out." That he did,arriving at his hospital bedside Wednesday morning. Also, his pastor, Creola Smith and her crew andhis upstairs neighbor, Helen Taylor, who would check on him periodically duringthe night.
To send flowers or a remembrance gift to the family of Italy Cokley, please visit our Tribute Store.
Previous Events
Visitation
Dimery and Rogers Chapel - Kingstree
404 E. Main St
Kingstree, SC 29556
Service
Hickory Hill Missionary Baptist Church
7183 Hemingway Highway
Nesmith , Sc 29556
Cemetery Details
Location
Barr Cemetery
123 Battle Axe Road
Nesmith, SC 29556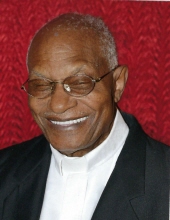 Thank you for sharing your
memory of Italy
Provide comfort by sending fresh
flowers from our local florist.
No thanks, please don't show me this again.